StarTech USB 3.0 to 4-Bay SATA 6Gbps Hard Drive Docking Station w/ UASP & Dual Fans - 2.5/3.5in SSD / HDD Dock
Product ID:

105548

SKU:

SDOCK4U33

Availability:

Out of Stock
Description
The SDOCK4U33 four-bay 2.5/3.5" SATA HDD / SSD docking station lets you dock and swap four drives from your desktop or laptop computer simultaneously, using a single USB port.
Get the most out of your SATA III (Gbps) solid state drives and hybrid drives with this UASP (USB Attached SCSI Protocol) enhanced hard drive docking station. With performance up to 70% faster than conventional USB 3.0 when paired with a UASP-enabled host controller, UASP ensures high performance by reducing bottleneck. See our UASP testing results below for further details.
The hard drive dock features independently-powered SATA connectors for each individual drive, ensuring you can operate drives separately. This gives you the freedom to hot-swap one drive while transferring data to another, saving you time. Plus, the built-in fans keep your drives running cool, ensuring optimal performance and helps to prevent premature drive failure.
Extend the value of this hard drive docking station further with the addition of our SATA to IDE Hard Drive Adapter (SAT2IDEADP), allowing easy insertion of any 2.5 or 3.5in. IDE hard drive into a SATA hard drive dock.
To ensure compatibility with your computer system, the SDOCK4U33 supports all of the leading operating systems, including: Microsoft Windows® (8/7/Vista/XP/Server 2008/Server 2003), Apple® OSX (10.9/10.8/10.7/10.6), Linux, and Google Chrome OS™.
SDOCK4U33 is backed by a StarTech.com 2-year warranty and free lifetime technical support.
Improved Performance with UASP
UASP is supported in Windows 8, Mac OSX (10.8 or above), and Linux. In testing, UASP performs with a 70% faster read speed and 40% faster write speed over traditional USB 3.0 at peak performance.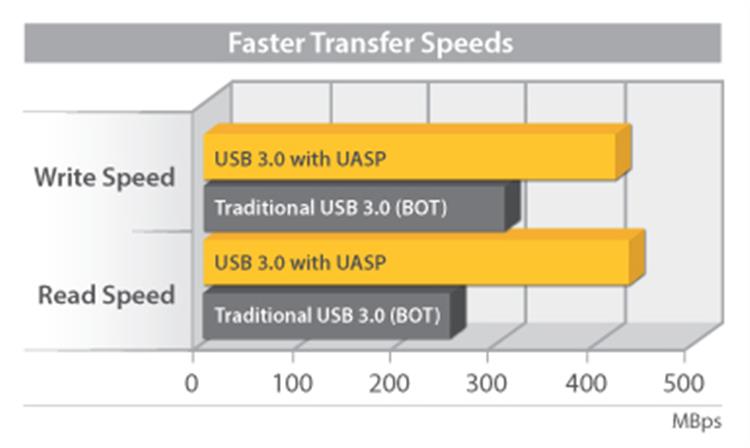 At the same peak in testing UASP also shows an 80% reduction in required processor resources.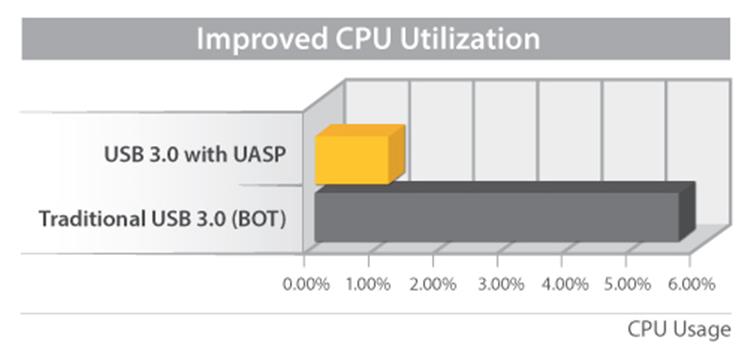 Testing results were obtained using an Intel® Ivy Bridge system, a UASP-enabled StarTech.com Enclosure, and a SATA III solid state drive.
Packaging Information
Package Length
34.1 cm [13.4 in]
Package Width
21.4 cm [8.4 in]
Shipping (Package) Weight
2.2 kg [4.8 lb]
Performance
Insertion Rating
15,000 Cycles
Max Drive Capacity
Currently tested with up to 4TB 7200 RPM 3.5" hard drives per bay (8TB total) and 2TB 5900 RPM 2.5" hard drives (2TB total)
Type and Rate
USB 3.0 - 5 Gbit/s
UASP Support
Yes
Physical Characteristics
Color
Black
Material
Plastic
Product Height
8.5 cm [3.3 in]
Product Length
28.5 cm [11.2 in]
Product Width
17.1 cm [6.7 in]
Weight of Product
1 kg [2.3 lb]
Power
Input Current
2.5A
Input Voltage
100 - 240 AC
Output Current
6.5 A
Output Voltage
12V DC
Power Consumption (In Watts)
78
Power Source
AC Adapter Included
Prominence
Description CDW 75 - 1st Line
StarTech.com 4-Bay 2.5/3.5in SATA Hard Drive Docking Station w/ UASP 6 Gbps
Software
OS Compatibility
OS independent; No software or drivers required
What's in the Box
Included in Package
Instruction manual
Universal power adapter (NA/EU/UK/AUS)
USB 3.0 4-Bay 2.5/3.5" SATA SSD/HDD Dock
USB 3.0 Cable
Packaging Information
Package Height
17 cm [6.7 in]
Indicators
LED Indicators
Drive power/activity LED
Hardware
Number of Drives
4
Interface
USB 3.0
Fans
40 mm
Fan(s)
Yes
Drive Size
2.5in & 3.5in
Drive Installation
Removable
Compatible Drive Types
SATA
Chipset ID
VIA/VLI - VL812
ASMedia - ASM1053 - 6G
Environmental
Storage Temperature
-20C to 50C (-4F to 122F)
Operating Temperature
5C to 35C (41F to 95F)
Humidity
20%RH ~ 80%RH
Connector(s)
Host Connectors
USB Type-B (9 pin) USB 3.0 Female
Drive Connectors
SATA Data & Power Combo (7+15 pin) Receptacle
View All
Close